Don's Pilot for Sailing in Japan
  Visiting Japan with 33ft Sailing Boat
  Ports Information Sailing Routes  
My name is Don.
I am a Japanese solo sailor visiting hundreds of ports, which were marinas and fishing ports, in Japan with my red-colored 33ft sailing boat "Echo Point".

Here are my reports of ports at which I moored my boat.
- How to approach each port. On English Google map the red line shows original route plan and the blue line shows track chart on which I actually sailed.
You will see my maneuvering around fishing nets.
- Which area in a port was good for my mooring. Pictures and another map show well-protected berth.
- Availability of fuel, water, toilet and provisions. Directions of good restaurants and Onsen ( Japanese hot spring ) bathhouses too !
Note: While you will see some additional information for English version, my original reports were based on my personal activities.
Then, my reports may not cover all aspects of each port.
Enjoy your sailing in Japan !
(English by KC Ohno)

Ongoing Blog (Japanese) of Don's Yachting Life:
                                                                     
1. Hokkaido   北海道 
         Hakodate Port                  (函館港) 
         
2. Sea of Japan 日本海
         Saigo Port at Dogo Island in Oki Islands   (隠岐の島、島後 西郷港)
         Sakai-ko Port Public Marina          (境港公共マリーナ)
         Murotsu FishArena                (室津)
         Ine Port                      (伊根港)
         Obama Port                    (小浜港)
         Nanao Port at Nanao Minami (South) Bay (七尾港)
         Sakata Port                   (酒田港)
         Akita Marina                    (秋田マリーナ)
         Yunotsu Port                   (温泉津港)
3. Boso Peninsula
         Funagata Fishing Port              (船形漁港)
         Cikura Fishing Port                (千倉漁港)
         Choshi Port                    (銚子港)
4. Izu Islands  伊豆諸島   
         Habu Port at Ohshima Island                (伊豆大島波浮港)
         Ako Fishing Port at Miyake-jima Island         (三宅島阿古漁港) 
         Kaminato Port at Hachijo-jima Island           (八丈島神湊港)
         Miura Fishing Port at Takoh Bay, Kozu-shima Island   (神津島多幸湾三浦漁港)
         Nii-jima Port at Nii-jima Island              (新島新島港)
         Wakago Fishing Port at Nii-jima Island          (新島若郷港)
         Fukinoe Cove at Shikine-jima Islan            (式根島吹の江)
         Nobushi Fishing Port at Shikine-jima Island        (式根島野伏港)
14. Suruga Bay 駿河湾
        West Coast 西岸 
         Fujisan Hagoromo Mmarina                (羽衣マリーナ(旧折り戸)
5. Ogasawara 小笠原
         Futami Port at Chichi-jima Island in Ogasawara Islands   (小笠原二見港) 
6. Izu Peninsula 伊豆半島
        West Coast 東岸
         Shimoda                          (下田)
         Mera Fishing Port                     (妻良)   
         Arari Port at Izu Peninsula               (安良里) 
         Matsuzaki Port                       (松崎港) 
         Ito Sunrise Marina                    (伊東サンライズマリーナ)             
7. Kii Peninsula 紀伊半島  
         Shima Yacht Harbor in Gokasho-wan Bay      (五ヶ所湾志摩ヨットハーバー)   
         Wakayama Marina City Yacht Club          (和歌山マリーナシティヨット倶楽部) 
8. Shikoku 四国  
         Tokushima Kencho Pier             (徳島ケンチョピア)
9. Seto Inland Sea 瀬戸内海
         Hiroshima Kanon Marina            ( 広島観音マリーナ)
         Miya-jima Visitor Berth             (宮島ビジターバース、厳島港)
         Okino-shima Marina              (沖野島マリーナ)
         Omishima                     (大三島宮之浦)
         Onomichi                      (尾道海の駅)
         Sakaigahama Marina               (境が浜マリーナ)
         Nio Marina                    (仁尾マリーナ)
         New Port (or East Port) of Shiraishijima   (白石島新港)
         Kusakabe Port in Shodo-shima Island    (小豆島草壁港)
         Miyanoura Port at Nao-shima Island     (直島宮之浦港)
         Aji Port at Ya-shima Island          (屋島庵治港)
         Yoshida of Shodoshiima             (小豆島 吉田)
         Tonosho Higashi Port              (小豆島土庄東港)
         Ashiya Marina                  (芦屋マリーナ)
         Yugeshima Island                 (弓削島)
         Mitarai Port at Osaki-shimojima Island   (御手洗)
         Ushimado Yacht Harbor            (牛窓ヨットハーバー)
         Ushimado Old Port               (牛窓旧港)
         Tokushima Kencho Pier             (徳島ケンチョピア)
         Sensuijima                     (仙酔島)
         Tomonoura                    (鞆の浦)
         Agenosho Port                  (安下庄)
         Deltamarine Hofu Marina             (デルタマリーン防府)
         Himeshima Port at Hime-shima Island     (姫島)
         Sumoto Port in Awaji-shima Island       (淡路島 洲本港)
         Toshima Port in Awaji-shima Island      (淡路島 富島港)
10. Kyusyu   九州
         Fukuoka City Yacht Harbor                  (福岡市立ヨットハーバー)
         Nishino-omote Port in Tanega-shima island      (種子島 西之表港)
         Isso Port in Yaku-shima island              (屋久島 一湊港)
         Miyanoura Port in Yaku-shima islan           (屋久島 宮之浦港)
  11. Tokara Islands
         Yasura-hama Port in Akuseki-jima island       (悪石島 やすら浜港)
         Nakano-shima Port in Nakano-shima island      (中之島)
12. Amami Island〜Yoron-to Island 奄美大島〜与論島
         Naze Fishing Port of Amami-oshima          (名瀬漁港)     
         Koniya Fishing Port of Amami-oshima          (古仁屋漁港) 
         Atetsu Port of Amami-oshima              (阿鉄港)
         Doren Port of Kakeroma-jima island            (加計呂麻島 渡連港)
         Ikenma Port of Kakeroma-jima island           (加計呂麻島 生間港)
         Kametoku New Port in Tokuno-shima island      (徳之島 亀徳新港)
         China Fishing Port in Okinoerabu-jima island      (沖永良部)
         Chabana in Yoron Port in Yoron-to island       (与論島 茶花漁港)
13. Okinawa 沖縄 
          Ginowan Port Marina                    (宜野湾マリーナ)
          Kanegusuku Port in Kumejima island           (久米島 兼城港)
          Ie Port in Iejima island                    (伊江島港)
          Maedomari Port in Iheyajima island            (伊平屋島 前泊港)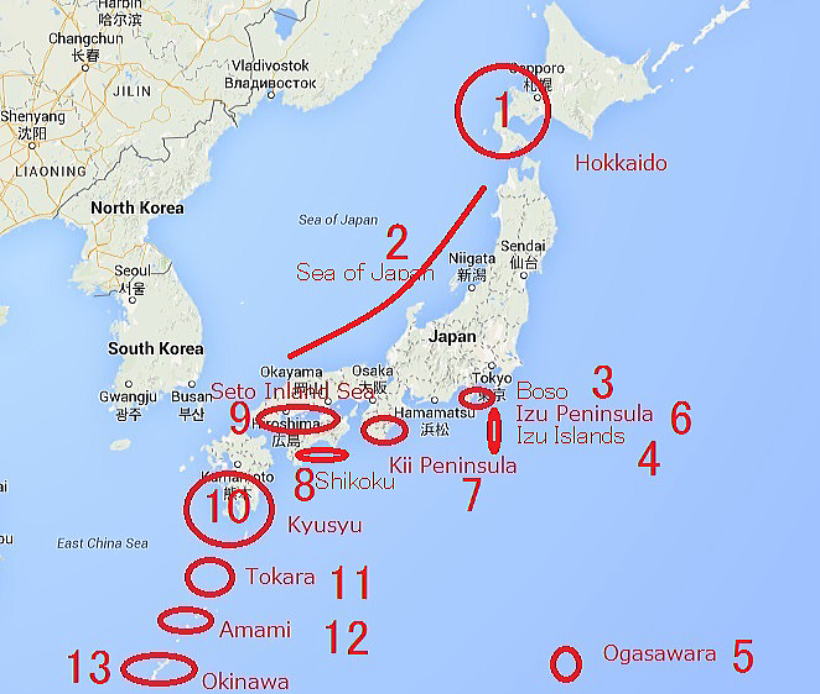 Setouchi International Yacht Rally (SIYR) 2013
Map(Google Map)
 Atami (Don's home port) Shimoda Omaezaki Fukude Anori Shima Kukiura Nachi-Katsuura
 Shirahama-Tsunashirazu Kencho-pier Kusakabe Ogijima Sensuijima Yugejima Mitearai Okonoshima
 Miyajima Hiroshima Kanon Marina OmishimaOnomichi Sakaigahama Marina Nio Marina Shiraishijima
 Shodoshima-Yoshida Ashiya Marina Izumi-Otsu Izumi-Sano AoShirahama-Tsunashirazu
 Susami Nachi-Katsuura Kukiura Anori Fukude Shimoda Ito Atami (Don's home port)
)